10 Legendary Football Speakers Who Are Perfect for Your Events in 2018
We look at the best motivational speakers in football and discuss how they can add extra to your events. 
We weigh in on the legendary football players, managers and pundits who have played a leading role in the game and make for a perfect presence at your events.
Delivering speeches on topics from peak performance and leadership to success and overcoming adversity, these stars can add something special to your events. Here are 10 top picks of football legends to speak at your events:
Kenny Dalglish MBE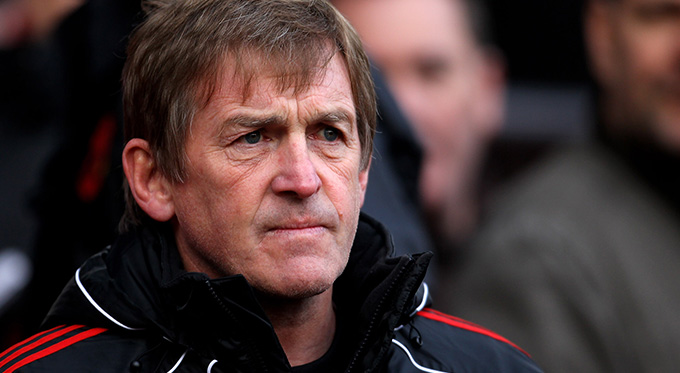 Another sensational footballer in his heyday, and a talented manager, Kenny Dalglish MBE is considered one of the best players that Liverpool have ever had. At a time when the club were dominating the English and European game, Kenny was at the forefront, taking teams to the sword.
Having scored 260 goals for Celtic, Liverpool and Scotland, won the Ballon D'or, nine League titles and three European cups as a player and manager - it is no surprise that King Kenny is lauded as a legend. He is a popular keynote speaker for sporting events.
Gary Lineker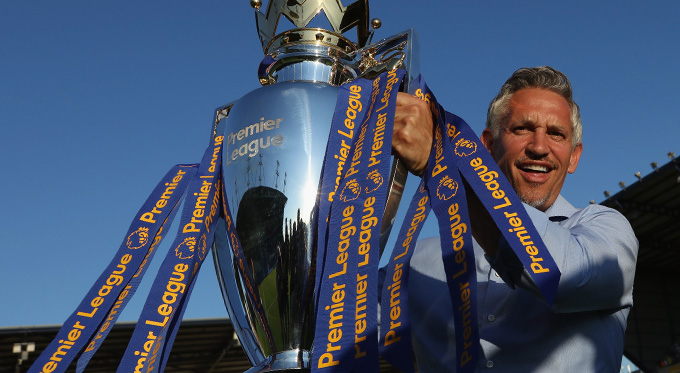 Historically one of England's finest strikers and now pundits in the media, Gary Lineker is a leading football ambassador.
His footballing career began at his much-loved Leicester City where he popped an impressive 95 goals in 194 appearances. From there he signed for Everton and spent a year with an equally impressive goal return. Then European heavyweights, Barcelona came calling and Gary won over the Blaugrana over three seasons, scoring 42 in 103 games. Tottenham Hotspur followed, and Gary continued his remarkable form with 67 appearances over 105 games.
Most impressively, Gary scored 48 goals over 80 appearances for England. Now, a wonderful guest football speaker and a popular personality, he is an ideal choice for corporate and sporting events.
Sir Alex Ferguson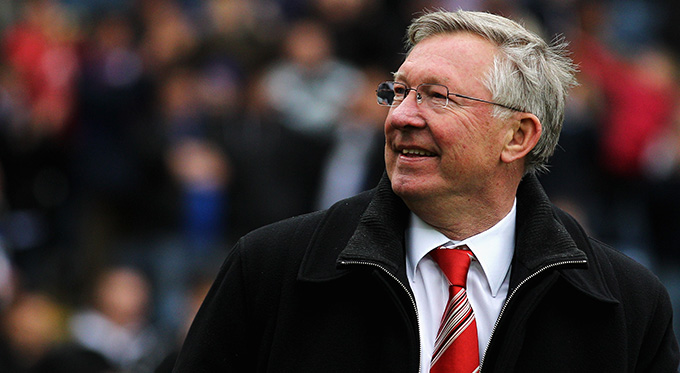 Sir Alex Ferguson; the greatest football manager of the past three decades and some would say in the history of world football. One thing that cannot be argued or understated is his impact on the modern game. Sir Alex famously led Manchester United to a 19th league title, overtaking Liverpool's record of 18 league titles and more importantly, stealing their status as the biggest name in football. A legend of the game, Sir Alex is a fascinating football speaker and master of all things football.
Sir Geoff Hurst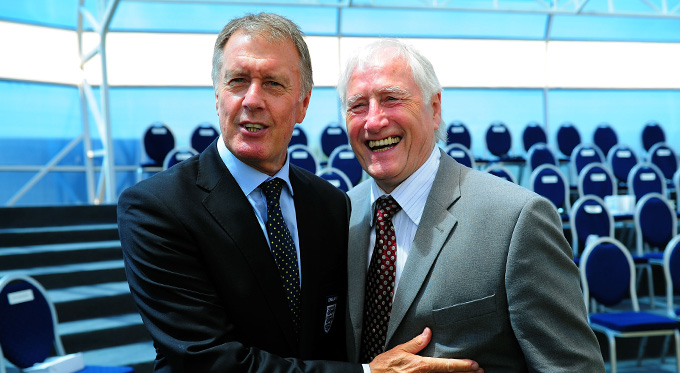 Is it possible to make a list of footballing legends without including the hat trick hero in England's only World Cup win to date?
Sir Geoff Hurst MBE was a key player for West Ham United and spent 13 years with the club. During that time he played an essential role in the England national team and helped them to a historic final in 1966. An eloquent and interesting man, Sir Geoff is one of the most popular football after dinner speakers.
Alex Scott
A staple of the history of women's football, Alex Scott has been a key figure in the game.
Having won a Quadruple with Arsenal, scored the winning goal in the 2007 UEFA Women's Cup Final and earned a remarkable 140 caps with the England national team, Alex has hit great heights in the professional game. And since retiring in 2018, Alex has become an important member of the punditry team at BBC and Sky Sports. There she is revelling in proving to young women that there are opportunities to speak in football if the knowledge is there.
A terrific presenter and endearing personality, Alex Scott is the perfect name to speak at your events.
Pep Guardiola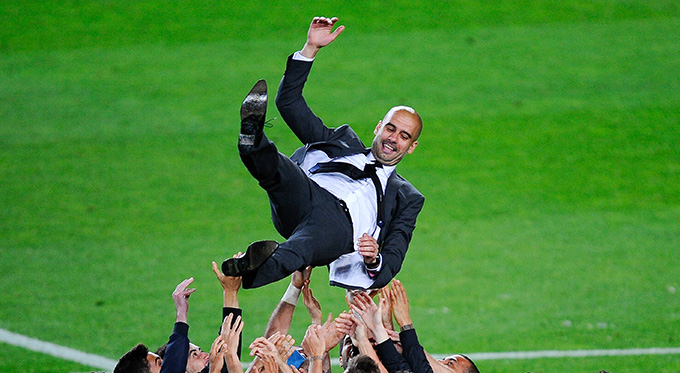 Few times in football can you call a player or manager a legend before they have finished up in the game, but Pep Guardiola is one of the rare examples of a man that reached the absolute pinnacle of the game, both as a player and a manager. A leader, tactical innovator and serial winner, Pep Guardiola has succeeded wherever he has been, under a style that has won over football fans across the world. An engaging personality, Pep is one of football's best motivational speakers and managers.
Arsène Wenger OBE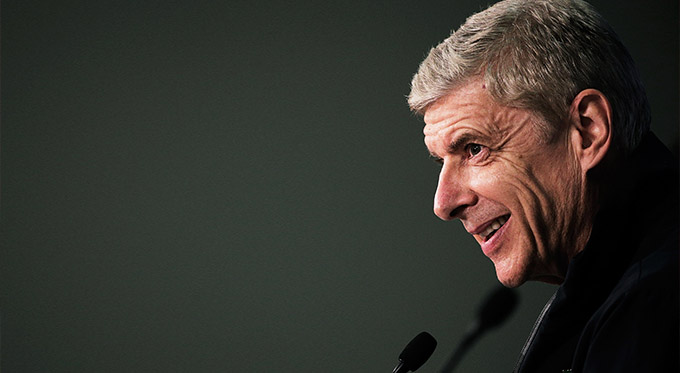 English football was a better place for the twenty-two years that Arsène Wenger OBE spent in it. At the helm of The Gunners, Arsène brought the club into the modern day with a scintillating style and substance which saw his team become the neutrals pick in English football.
He oversaw huge change at the club, some sensational transfers which included the likes of Thierry Henry and Patrick Vieira. He won three league titles and seven FA Cups to become the most successful manager in the club's history. His 'invincibles' team was considered one of the finest football teams in English football history as they claimed the Premier League title without losing a single game.
Now Arsène Wenger is able to articulate his incredible successes and his ideas on the game, on football and the themes around it to provide wonderful insight at all manner of events.
John Barnes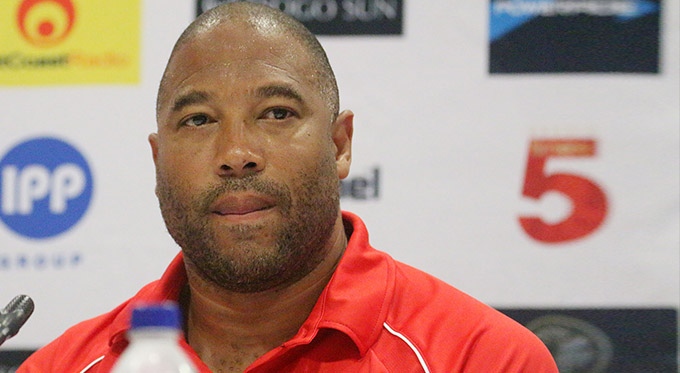 Liverpool and England legend John Barnes was inducted into the English Football Hall of Fame in 2005 and with good reason.
His haul of 166 goals in competitive football was far from a poor return but John was best known for his extraordinary speed and trickery on the wing for both club and country. He gained further popularity when he joined New Order to rap the England team's official song, World in Motion ahead of England's 1990 World Cup campaign, a song that is still a favourite anthem to this day. A wonderful personality and sports speaker, John is perfect for events.
Oliver Kahn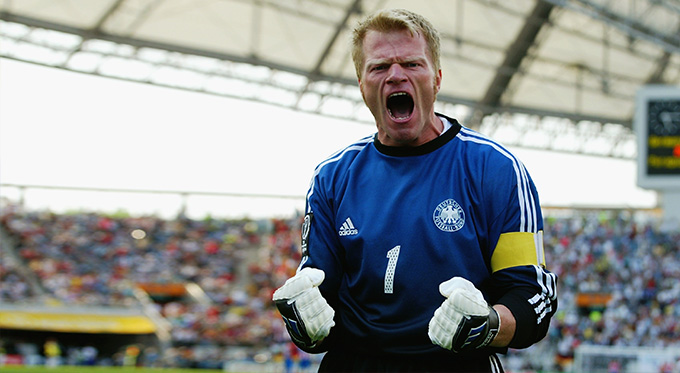 Former goalkeeper of Bayern Munich and the German national team, Oliver Kahn is one of the best players from his position in the history of the game. He earned the nicknames 'King Kahn' and 'The Titan' for his command of a back four. A quality shot-stopper showing all the hallmarks and technique of a footballing great, Oliver proved his mettle and leadership qualities throughout an impressive twelve seasons in the Bayern goal. Today, he his a leading speaker, owing to the traits he had as a footballer.
David Beckham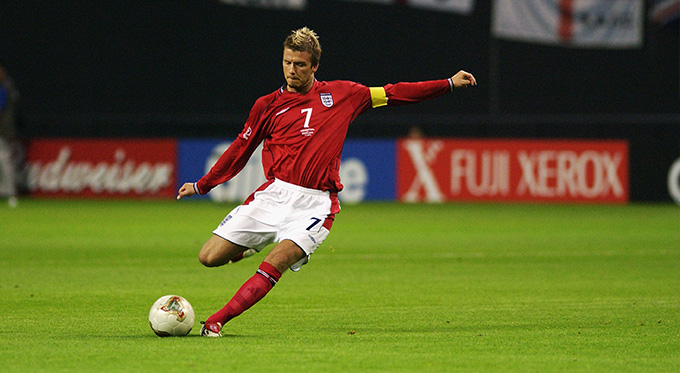 Serving as the inspiration for millions of young people worldwide, David Beckham OBE is a universal superstar.
On the field David Beckham was a fearless competitor and leader, making his mark on big games time and time again. His famous free kick taking ability, 60-yard piledriving passes and work rate earned him several nicknames in the mainstream media; Golden Balls and Becks among them.
His pinpoint accuracy and consistency in bending corners into the box and the top corner of the net made him one of the most renowned sportsmen in the world. He played for the world's biggest teams, including four of Europe's superpowers, Manchester United, Real Madrid, PSG and AC Milan, before finishing his career in the MLS with LA Galaxy, but it was Becks' time as England captain that made him the name he is today.
As both a footballing legend and high-profile personality, David Beckham is a top choice to add the wow factor to your event.
Book Your Perfect Football Speaker
Our expert team will help provide you with a leading personality to entertain and inspire your team at your gala dinner, award ceremony or other corporate events.
To book the best football managers, players, pundits and hall of famers from the world of football, get in touch with Champions Football Speakers today via our online form. Alternatively speak to a booking agent at: 0207 1010 553.