Is Marcelo Bielsa the Godfather of Modern Football?
Often alluded to as the godfather of modern football, Marcelo Bielsa's influence is felt far and wide. Now, plying his trade at the home of promotion hopefuls, Leeds United, his eccentricities and exciting style of play have already been felt through Yorkshire and football's second tier.
Such has been his impact, hordes of football fans unfamiliar with the ways of Marcelo Bielsa are jumping on board, falling in love with his methods, personality and the way he so nonchalantly sits on a bucket in front of the dugout.
The Man. The Myth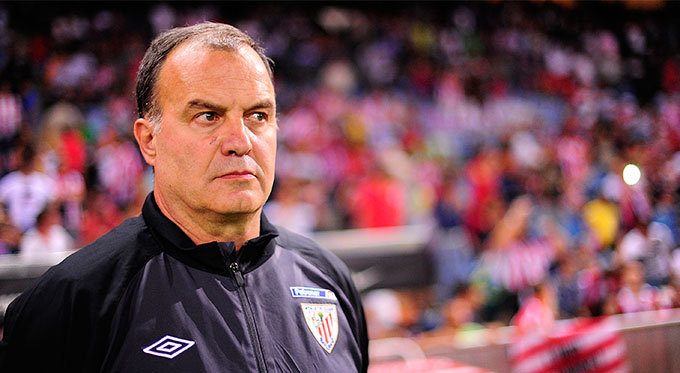 On the surface, Marcelo Bielsa's achievements are average, some would say below-par, for a man with twenty-five years of management experience behind him. But behind the numbers and the silverware lies a footballing philosophy that has laid the foundations for the super-coaches of today. What is that philosophy, why do they call him 'El Loco' and why was a man named Jed Davies compelled to write a book about Marcelo Bielsa's tactics?
An incredibly intriguing personality, Marcelo Bielsa bears all the hallmarks of a true visionary. Bold, rash on occasion, and utterly dedicated to his craft, he earned the nickname 'El Loco' (the crazy one) for his outlandish outbursts aimed at getting a reaction. According to sources, Bielsa said to his then captain (at Newell's Old Boys), Fernando Gamboa ahead of their derby defeat to Rosario Central, 'I'm ready to cut off my finger if you tell me we're going to win!'
A couple of years later he was holding a hand grenade outside his house and threatening fans. To put it in to context, his team had just lost 6-0 in the Copa Libertadores and when his team's fans showed up at his home to protest he told them:
"If you don't leave, I will blow you up."
And there lies the story of why Marcelo Bielsa became El Loco.
Career Highs & Lows
Bielsa took Newell's Old Boys to two consecutive league titles between 1990-1992.
1997-1998: Returned to Argentina to manage Vélez Sarsfield, taking them to the league title.
Bielsa became his national team's manager in 1998. Unfortunately, Argentina were knocked out in the first knockout round of the 2002 FIFA World Cup before finishing runners-up in the 2004 Copa America and winning a 2004 Olympic Games gold medal. He resigned in 2004.
Bielsa returned to management with the Chile national team and took the team on a rollercoaster ride of highs and lows between 2007 and 2011. He took them to their worst home defeat in history but also recorded historic wins against Argentina, Peru and Paraguay. His team made the 2010 World Cup after the country missed the previous two tournaments but eventually bowed out to Brazil in the Round of 16. Fans still loved Bielsa and eventually were powerless to stop him leaving despite an animated 'stop Bielsa leaving' campaign.
Under his stewardship, Bilbao reached the Copa Del Rey Final and Europa League Final in 2012 after an impressive run, eventually falling to Atletico Madrid and Barcelona respectively, both to 3-0 scorelines.
Bielsa took Marseille to fourth in Ligue 1 before resigning due to conflicts with those above him in 2014.
2016: Bielsa took charge of Lazio before leaving 2 days later, which led the club to take legal action against him. Instead, he took charge of Lille.
Bielsa's Style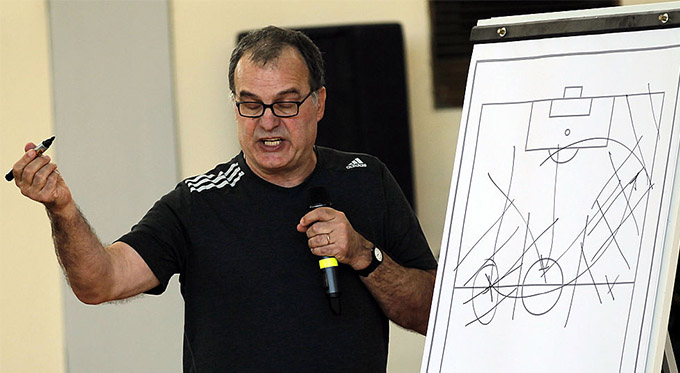 Bielsa's style allows for quick transitions and commands his players to win the ball high up the pitch. A Bielsa team can line up in a variety of ways and he has started the Championship season with a 4-3-3 formation. As anyone familiar with Bielsa's style will contend, his starting formations mean relatively little. Kemar Roofe, Samu Saiz and Esgjan Alioski have been particular beneficiaries of this fluid, rotational style, as it allows them to get behind the defence on a more consistent basis.
Further back, Bielsa likes his full-backs and midfield players to push on and make runs from deep. This has suited Pablo Hernandez who has proven himself the perfect playmaker to fit into Bielsa's tactical plan for Leeds. Ander Herrera, now of Manchester United played that same integral role in Bielsa's Athletic Bilbao set-up.
Bielsa's style is a fusion of the most effective and exhilarating styles football has ever seen. Bielsa threw away the rulebook and decided that a team needn't choose between a purely counter-attacking style or possession-based football. He asked, why not do both? And there lies the bare bones of a much more complex strategy. This thought process opened up an opportunity for new managers to scrutinise the small details in football. It said to young coaches; you can do this, you can do that, why not do it all; and that is perhaps why Bielsa is so widely appreciated by the Guardiolas and Pochettinos of this world. He gave others the freedom to reinvent football in their own way.
Bielsa-Fanatics
Many English football fans have been aware of Bielsa for years and, without until now ever having managed in England, he has affected the English game more than you can imagine, with many coaches adopting his root philosophy. So, who's onboard? Let's take a look at the Argentinian's illustrious fan club.
Bielsa's influence was felt strongly in his native country, with top bosses like Mauricio Pochettino, Gerardo Martino, Diego Simeone, Jorge Sampaoli and Eduardo Berizzo committing to his creed. All view the Argentinian innovator as the man who shaped their own coaching style. While Brendan Rodgers, Roberto Martinez and Pep Guardiola have all paid tribute to the ideas and style of Bielsa, considering him among their greatest influences.
Bielsa's ideas can be seen in many of the styles we see today. Manchester City's pressing game and fluid movement under Guardiola are very much characteristic of a Bielsa team, therefore it is no surprise to learn that Bielsa was the biggest influence on a young Pep Guardiola, as he climbed the first steps of the managerial ladder.
Who Inspired Bielsa?
To understand how Bielsa came to be regarded by some as the godfather of modern football, we have to first understand who held sway before him and how the ideas of past coaches shaped his imposing effect on the game.
Jimmy Hogan and Hugo Meisl
One of the original pioneers of the game, Jimmy Hogan, descended from Lancashire to transform the way football was played. He began coaching football in Austria in the 1920s and by the 1930s was considered one of the leading lights in a new era of football. He formed part of a coaching set-up which helped Switzerland to the 1924 Olympic Final. He then joined up with Hugo Meisl to coach the Austrian national team in the 1930s. The team were later coined the Wunderteam. It was Jimmy Hogan's introduction of quick passing that started the team on a road to significant success, playing a beautiful brand of football.
Gusztáv Sebes and The Magnificent Magyars
Next came Hungary's immense success. 'The Golden Team' or the 'The Magnificent Magyars' were considered one of the most exciting teams to have ever played the game and it was their use of inverted wingers/inside forwards – whatever you wish to call them - that changed the way football was played. With Ferenc Puskas on one side of a front three, which also featured a forward playing in a deeper-lying role, Hungary could be said to be playing contemporary, 'sexy' football in the 1950s! And they mauled the England national team 6-3 and 7-1.
Gusztáv Sebes was the man in charge but attributed much of his team's success to Jimmy Hogan, even saying:
"We played football as Jimmy Hogan taught us. When our football history is told, his name should be written in gold letters"
. Sebes is not entirely without merit though as his trial of 4-2-4 and creation of 'socialist football' paved the way for total football.
Rinus Michels & Total Football
Championed by the likes of Ajax, Real Madrid and perhaps most notably, The Netherlands national team, the term total football was used to describe a style in which attackers, midfielders and defenders were not rooted to a set position but were part of a fluid set-up that ensured players could interchange with each other and adapt to use the space available.
It expanded on Sebes' socialist football, which concentrated on a fluid triumvirate. Total football qualifies that no player on the pitch (other than the goalkeeper) is restricted to a specific position. Rinus Michels channelled the style in the 1960s as manager of Ajax, becoming one of the greatest managers of all time in the process. He demanded huge amounts from his players and further developed ideas of space in football, building on the foundations laid by Hogan, Meisl and Sebes to make football a more unpredictable ball game.
Michels initiated the tactic of pressing high to win back the ball or pressurise an opponent. From there, players could decide where to position themselves, when to move and how to use space. The tactic proved dynamic and difficult to defend against and often bore the name 'death by football' and, by 1999, he had been named Coach of the Century.
Johan Cruyff
Throughout the 1980s and 1990s, Johan Cruyff was imprinting his own ideologies on the total football he played so beautifully with The Netherlands and Barcelona, now as manager. Working in much the same vein as his mentor, Michels, Cruyff won the European Cup with Ajax playing his own brand of the splendid attacking system he played so ably as a player. He moved to Barcelona where he developed the next generation of talent, leading the team to an impressive haul of 11 trophies. Across land and sea, Marcelo Bielsa was beginning to change the game in Argentina with Newell's Old Boys. There he was developing the way football was played with the help of those that came before him.
Bielsa and His Followers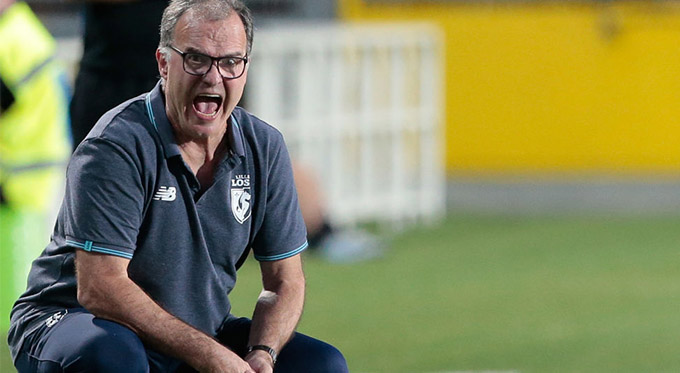 Marcelo Bielsa may not have enjoyed the same success as some of the managers before him or, indeed, those who followed him, such as Guardiola and Simeone, but he can be judged as a great innovator, an obsessive and a thought leader. And he certainly should not be overlooked in favour of those managers when considering which tacticians have taken football to the next level.
So, is Bielsa the Godfather of Football?
He is certainly a torchbearer; one of the ones not to accept that total football or socialist football was perfect but expand on the themes and styles therein and make bold decisions to evolve the way the game is played.
Some people are made to teach others and it seems as though that has been Bielsa's role in football all along. He has won many plaudits, not least after his team's 2012 Europa League semi-final performance against Manchester United, when he lead Athletic Bilbao to an enthralling 3-2 win. He has had some success, but he will be remembered, at least by English football fans for his pioneering role in football, not his trophy haul. Unless of course, he does something miraculous with Leeds United. And getting them back to the Premier League would certainly have him lauded as a demigod in certain parts of Yorkshire.
What Can Bielsa Do at Leeds United?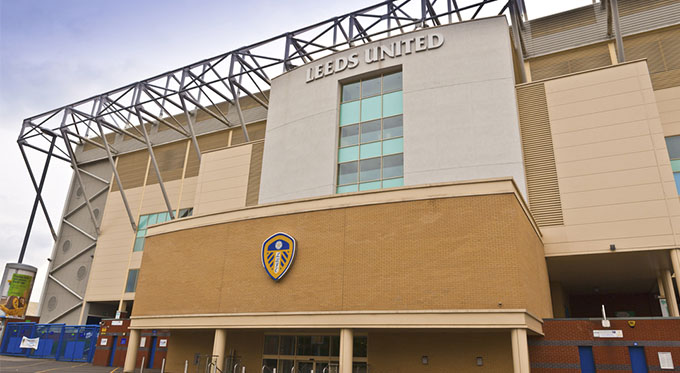 Such a high-profile manager in the second tier of English football was always going to garner great attention but nobody was quite prepared for the blistering start that Leeds United have made to the new season under their influential new boss. He has changed the style, substance, training routines and culture around Elland Road, he has brought fans on side and left them the happiest they have been in 15 years.
Ultimately, with the feel-good factor he has brought to the club, if they continue to play the dynamic football they have been, scoring wonder goals and working well as a unit, fans will forgive him for missing out on promotion. But would Bielsa forgive himself? And that is the kind of man you want in charge of your football club. An imperious, committed overseer of a promotion push, to whom not reaching the top is not good enough.
About Us
Champions Football Speakers offer football news and insight as well as big-name players, coaches, after dinner speakers and pundits for your corporate events. Get insight into peak performance in sports and top tactics from a leading manager, like Marcelo Bielsa, today. Simply get in touch with our expert team. Alternatively, browse our other leading football after dinner speakers or call a team member today via 0207 1010 553.