'He's One Of Our Own!' How Harry Kane Became The Nations' Favourite Footballer
Now considered the 'best out and out striker in the world' by many including leading football speakers Rio Ferdinand and Gareth Southgate - Harry Kane has become one of the world's greatest footballers.
It is Kane's drive and determination to maximise his potential and reach peak performance in sport that has driven him to lofty heights. We look at how Harry Kane became the poster boy for Tottenham Hotspur and the darling of English football.
The Coming Of Age
Harry Kane's youth record was impressive. Having been released by the Arsenal youth academy who considered the eight-year-old - 'not athletic' enough for the highest level, he shrugged off this setback to join Tottenham Hotspur's academy via spells at local club Ridgeway Rovers and Watford.
He played his opening fixtures as a midfield player at Spurs and did not initially stand out. He was not considered fast or physically powerful. But Kane's constant drive to make marginal gains began to make him stand out.
In the 2009-10 season, a 16-year-old Kane scored 18 goals in 22 games for the Tottenham Under 18s, marking his first major leap towards senior football. He fared well with the junior England teams as well, scoring 2 goals in 3 for the England U17 before earning a swift promotion to the U19 where he scored 6 in 14 appearances.
Kane quickly progressed through the academy ranks at Spurs, finding himself training with the first team at the age of 16. But with competition for places from the likes of Adebayor, Saha, Defoe, and Pavlyuchenko, Kane was loaned out to gain experience at senior level.
Were Harry Kane's Famous Four Loan Spells As Ill-Fated As They Seemed On Paper?
It took Kane four spells on loan in the lower leagues before he was ready for the demands of the Premier League. Spells at Leyton Orient, Millwall, Norwich City and Leicester City saw Kane notch 14 goals in 56 appearances; a wholly unremarkable return for a player destined to be the finest 'out and out' English striker since Shearer.
The loan spells were not without merit though as Kane's nine goals in 27 games helped steer Millwall away from relegation while earning him the Millwall Player of the Year award for the 2011-12 season.
After a pre-season hattrick for Tottenham Hotspur against Southend United, a nineteen-year-old Kane made an 86th-minute substitute appearance for Spurs against Newcastle United. This didn't stop a third loan spell for Kane as he joined Norwich City for the remainder of the season.
The campaign was entirely blighted by injury for Kane as he broke a bone in his metatarsal in his second of three appearances for the club. Following his rehabilitation, Kane made one further appearance before Spurs recalled him in February 2013.
Barely a month later he joined Leicester City's bid for promotion from the Championship. Kane helped them to the play-off semi-final before losing out to Watford.
Out Of The Blue Or Destined To Happen?
The sight of a youth player coming through the academy and putting oppositions to the sword is a dream for any football team. And the White Hart Lane faithful enjoyed their first true taste of Kane's talent in the 2013-14 season. His first goal came against Hull City in the League Cup to earn them an extra-time equaliser before he slotted the fifth penalty in an 8-7 shootout win.
He would have to wait till April 2014 to make his first Premier League start. But when he did, he didn't disappoint, scoring in a 5-1 demolition of Sunderland before netting in the following two games.
And while Kane's talent was well-known to football managers and fans around the world, few predicted what the 2014-15 season would bring.
The campaign brought Kane unprecedented success. Raining highlights, Kane's season saw him score a double to win the North London Derby against Arsenal and yet another one to beat off rivals Chelsea 5-3. Kane got his first hattrick against former club Leicester City, captained Tottenham for the first time and won consecutive Player of the Month awards.
Kane finished the campaign with 31 goals in 51 appearances to become the first Spurs player since Gary Linekar to surpass 30 goals. He was rewarded for his sensational season with a place in the PFA Team of the Year and was voted PFA Young Player of the Year.
Kane's talent was never in doubt but his work ethic was a major factor in his journey from top talent to world beater.
Taking Power In His Stride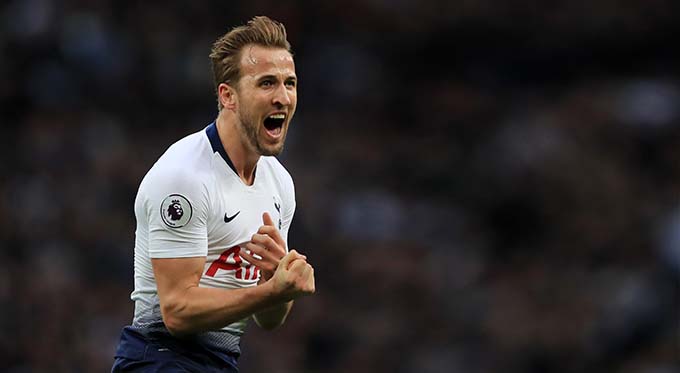 A theme that has featured as a defining narrative in some of the most compelling tales of all time; from Shakespeare's Macbeth to Orwell's Animal Farm - power has led some of the finest talents to fall flat of their undeniable potential. Corrupted by fame and fortune, a cluster of highly rated young players from Freddie Adu to Robinho failed to achieve what was expected. Whether these players were affected by crazy paychecks, their mental strength or lack of drive - Kane never had any such problems. Every time a question has been asked of him, he has answered it emphatically.
Constantly driven to make the most of his impressive abilities, Kane has outshone footballers who were considered more talented than him.
Courage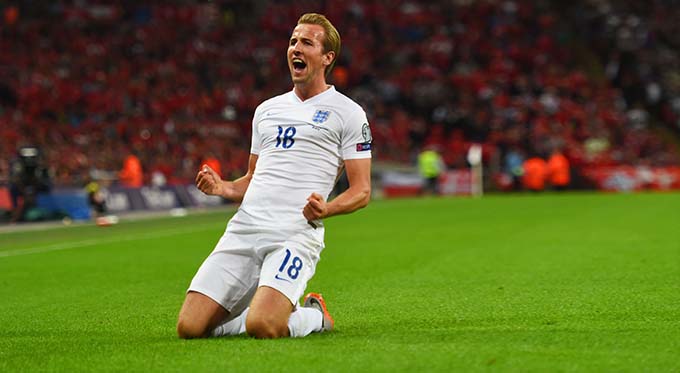 Kane accepted the number 10 shirt for the 2015-16 season, wishing to become 'a club legend'. Kane would now play with the pressure of being the league's most exciting young player and breakout striker.
'One-season-wonder' was the unfortunate phrase that greeted Kane at the advent of the campaign, after he didn't score in the whole of August (something which has become one of Kane's more unfortunate trademarks).
But Kane didn't cower. He pitched in to help Spurs to a dramatic 4-1 victory over Manchester City at the end of September to get off the mark after a poor run of form in front of goal.
Despite 6 weeks without a goal at the beginning of the season, Kane well and truly shook off the 'one season- wonder' tag when he notched the Golden Boot with 25 goals and helped Tottenham to a third-place finish.
Heroism
During his breakout season with Tottenham Hotspur, Kane made his senior international debut and quickly became a fixture of the England team. After scoring 80 seconds into his debut, he helped England to 10 wins from 10 matches to qualify for the European Championship. Kane and the team were criticised for their poor performances in the tournament though which led to the resignation of Roy Hodgson.
By the time the 2018 World Cup came around, Kane was appointed captain by the new caretaker manager, Gareth Southgate.
Low on optimism after a host of failed campaigns in recent years, England fans were crying out for something to make them believe they could compete with the best teams in the world. Remembering past heroes such as Gazza, Shearer and Lineker who all won over the nation in the 'nearly' years, fans longed for a hero.
England's crop of young talent needed a new leader to help them back to the pinnacle of international football. Harry Kane was that leader and his goals and influence on the team proved pivotal.
England worked their way into the semi-finals of the competition for the first time since 1994, having ended their penalty curse en-route. Kane was lauded as one of England's heroes as he won the Golden Boot with six goals, before being made an OBE.
Prior to the tournament, Southgate had challenged Kane to 'prove to me you are world class'. He did. By November 2018, Southgate was calling Kane 'the best goalscorer in the world'.
Love Conquers All?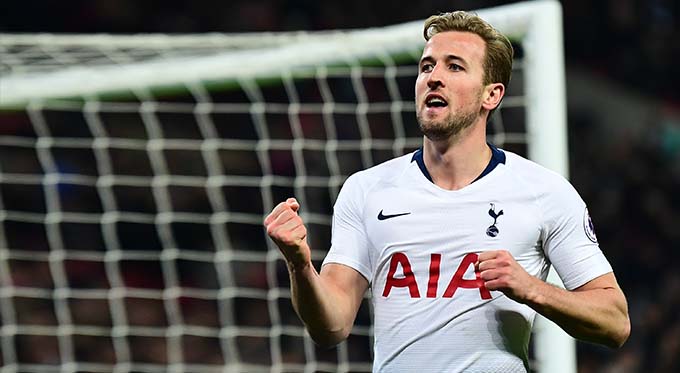 Kane was never expected to overcome many of the obstacles in his way but his passion for football, for Tottenham Hotspur and for his nation has allowed him to conquer all obstacles in his path.
Constant speculation has surrounded him since his rapid rise and arrival on the big scene. Kane has found himself as the most in-demand striker in the world of football and if rumours are to be believed, he has his pick of any team in the world to play for.
Kane though has shown loyalty to the team that gave him his belated or perfectly timed opportunity (depending on how you look at it). He signed another five-year deal with the Lilywhites in the summer to tie him to the club until 2024.
He has not yet been swayed by the flirtatious glances of Madrid, Juventus, United and Barcelona but only time will tell if he sticks around long enough to help Spurs win a major trophy.
The evidence points towards him staying where he is loved by all. Harry Kane can do no wrong at Spurs and is a national treasure at the age of 25. If love is all you need, Harry has it all. If ambition comes into it - Kane might look for a way out if the trophies don't come in soon.
There are many football fans who would revel in watching Kane turn out for one of the best clubs in the world. But would anyone pay £300 million for Kane? And if they offered it, would he leave?
How Will Spurs Live Without Him?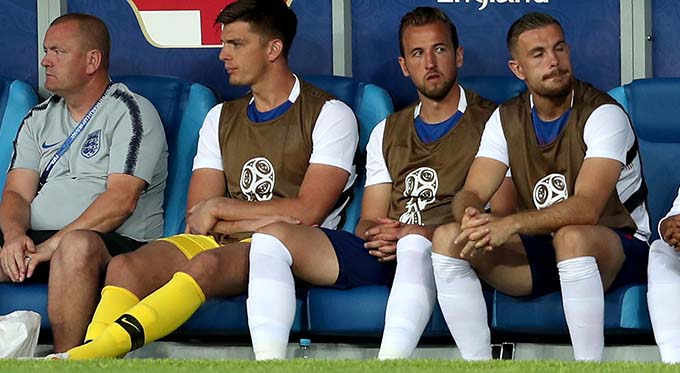 Whether you expect Kane to leave Spurs permanently or not is not the most pressing issue they face right now. Without their talisman until March, how will this affect their title challenge and chances in the Champions League, FA Cup and League Cup?
In Kane's absence, who is likely to bang in the goals for them, considering Kane is responsible for 30% of Spurs' goals. Fernando Llorente and Vincent Janssen are the on-site spares but both have proven pretty ineffective thus far. Unless one of them springs a Harry Kane sized surprise when given the opportunity this season, there may be trouble ahead.
With Son Heung Min also out of action until February due to the Asian Games, Tottenham could dive into the transfer market and pick up a potential bargain in the shape of Guiseppe Rossi or a dependable Premier League player in Marko Arnautovic, as being touted by BBC.
Spurs may well look within their current setup for their answer though as Erik Lamela, Lucas Moura and Dele Alli have all proven their flexibility across the front line in recent times.
Book The Best Football Speakers For Your Event
Champions Football Speakers specialise in bringing top talent to your corporate events and conferences. If you are looking to impress your team with a former footballer or football manager, look no further. For an evening with a top manager or for a football pundit to host your events- book today!